You can't believe it. Eight women came over to Richard's home, to his back yard and began to strip. Richard was mesmerized. What an incredible surprise. Not one, not two, but eight women, and each one stripping, all in one place, all at the same time. Richard had his camera ready. Richard was ready! This was incredible. You have to see the photos.
The eight women stripped, stripped in Richard's backyard that is. Like real pros! Snip, snip! Another vine stripped. You should have seen the dedication, the seriousness, the focus. There was no diverting these women from their appointed task. They were collecting the raw material to make wreaths,  cutting down the grapevines and stripping away their leaves, for wreaths they were about to make over at club member Barbara Rivett's home. Snip, snip,… small branches cut away to get an ideal piece of vine for the start of a wreath.
Yup, these strippers were grapevine leaves strippers. Now, I want to know what you were thinking.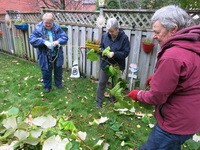 In any case, on a mid-October Monday morning, with the rain doing a two-step dance of showering these vine strippers, one moment on, next, off, the eight garden club members came over to Richard's back yard to harvest some grape vines for their wreath making workshop at Barbara Rivett's home.
Vine stripping lacks the inherent excitement and fun of other kinds of stripping but it got done, in short order, in about an hour. Fermo, Richard's rambunctious Scottish terrier, greeted and growled at everyone, assaulted shoes indiscriminately and just added to the fun of the whole endeavour.
Trish Stephens, Garden Club convenor, tried keeping everyone on task though her greater priority was simply to permit everyone the opportunity of socializing and integrating with everyone else. She succeeded. There was laughter, giggling, and lots of camaraderie as the ladies cut, and cut, and cut. Richard's wife, Nadia, was pleased as punch that much of her work of cutting down the vines for the winter was being done as a group effort. Kudos to Trish !
The finished products were still a while away during the photos session but watch for the finished products hanging in club members' homes in the very near future.
Once again, the Garden Club scores with another enjoyable event where there was a lot of enthusiasm, energy, fun and productivity for every participant.
Check out the photos of how serious an endeavour this was for all the Garden Club members involved. Bravo ladies !!!