A lesson about cancer…
taught with compassion, caring and respect.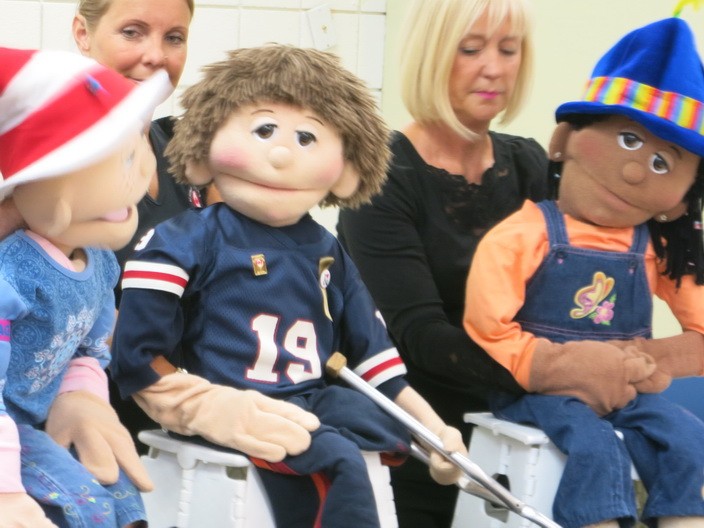 The Hearth Place puppeteers were the 'guest speakers' at the Aug. 27th  PROBUS Pickring meeting providing the members with educational entertainment.
The four life-size puppets are the storefront for an important group of volunteers who work with childhood cancer patients, their families and their friends. The organization helps educate children about cancer, cancer patients, their needs, and the terminology associated with the illness. It also provides support, comfort and encouragement to those individuals who are grieving because of the loss of a loved one due to cancer. The focus of the performances is on the virtues of compassion, courage, respect, helpfulness and treatment.
Camp Quality Teams
The puppets are one of the seven Camp Quality teams performing across Canada, each one doing presentations for elementary school aged audiences as well as adult groups such as Probus. The purpose of these performances is to help audiences understand more about cancer patients and the challenges they face.
The puppeteers are the entertaining facet of Hearth Place, life-size puppets who represent patients undergoing cancer treatment, patients who have received treatment and friends and family of current patients.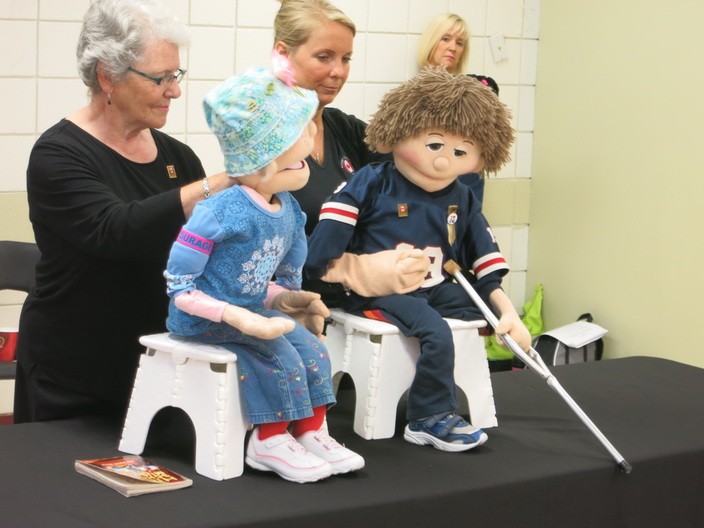 It was a bittersweet performance because cancer patients experience emotional highs and hows. They roller coaster with serious depression and a feelings of hopelessness to uplifting moments if and when they go into remission and recovery. The resulting physical changes from chemo and radiation treatments can be traumatizing, especially for young patients. Many experience severe depression as they deal with their illness. Many healthy people, particularly youngsters, are unfamiliar with the terminology associated with cancer and its treatment; terms like prosthesis, chemo, blastoma, melanoma, carcinogen, and more. This lack of knowledge can lead to stress, tension and worry for children, as well as family members and friends who have someone within their circle who is currently challenged by cancer. When the puppets sing out their song of hope, the clearly belted out message is "Courage, compassion and respect" and audiences cheer them on with great support,
The puppeteers by their personification of patients, families and friends of patients bring to life the reality of how life is for cancer patients and their family and friends. It is an entertainingly humourous messages with a very serious side. They teach and help people understand that though cancer is a very severe disease, there is real hope these patients as modern treatments become more and more successful.  This message of hope and potential recovery can be very positive and encouraging for youngsters as well as for older people who are experiencing the same stress and worry about a loved one afflicted with the disease.
There's a monkey in my chair !
Another aspect of the puppeteers work is called "There's a monkey in my chair." Donors can purchase a monkey puppet which is used as a temporary seat holder for the young student who is absent from school because of their cancer treatments. The puppet monkey sits in the absent student's seat in the class reminding the other class members of the student being away for their treatments.
Puppeteer Carolynn explained how students have demonstrated a great attachment to these monkeys understanding that they are stand-ins for their class buddy who is currently absent because of illness. It is a very meaningful and concrete way to maintain caring bonds between the healthy class members and their absent and ill classmate. A $75 donation purchases a monkey which will be used by a class/school where there is a cancer patient.
Sonia Shepherd was the host and spokesperson for the four puppeteers who brought "life" to the various puppets of the performance.
Hearth Place is a self supporting volunteer organization and relies on donations made by audiences who they entertain.
Donations can be easily made by credit card or by PAYPAL.
To make a donation, click on the link below:
https://www.canadahelps.org/en/charities/hearth-place-cancer-support-centre/
Four of the five guest speakers have experienced cancer issues themselves and today they work as volunteers to bring courage, compassion and respect for new patients out there.