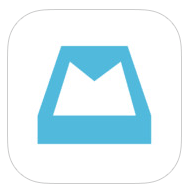 Hooray…three big cheers! The best app for your mail box has arrived.
Mailbox is now available for both ANROID and APPLE devices and I cheer for this for this email app is the best of any email app, by far. If you adhere to the philosophy of "Zero inbox," this app will become your best friend. It helps you clear your inbox of all email: either delete it completely, file it for later reading, or deal with it on a "later" basis, all done by a mere swipe of your screen. Swipe left or right and zip, the message is dealt with and removed from your inbox.
Install Mailbox to you device, either one, APPLE or ANDROID. Add your email account; Gmail addresses work very well. Open Mailbox and your account inbox will load and display your latest emails.
Begin cleaning out your inbox messages by selecting the particular message and swiping, the direction you swipe is important.

Swipe to the RIGHT

Swiping to the RIGHT means you either want to archive the email for whatever reason or else you want to delete it.
Swipe slowly to the right, when the swipe bar turns GREEN, release and the email will be archived, stored away for retrieval at a future time.
Swiping to the RIGHT but not stopping halfway, slowly continuing the swiping to the RIGHT until the swipe bar turns RED. The indicator means you are deleting the email completely from your inbox. Gone, cleaned out, done with, finished.

Swiping to the LEFT
Swiping to the LEFT has many more variables, all with the same objective. The email will be dealt with again at a later time. Either you want to deal with the email at another time and the "when" choices are varied: Later Today, This Evening, Tomorrow, Next Weekend, Next Week, In a Month, Someday, Pick Date. Click on the option you want whichever 'later time' you wish in dealing with the message again. For example, 'Later Today' takes the email and hides it to pop up later in the day. Each later selection has an option or options for your consideration.
Therefore, whether you swipe to the RIGHT or to the LEFT, the selected email will be removed from your inbox and dealt with in a way that you want, either archived, deleted or to be dealt with later at a time you choose, giving you time to think about the email.
But there are other facets to this great app. You can create lists in which you can 'park' your messages for reading later. Each list displays the number of messages it contains, a handy feature for watching if you have been neglecting an archive area.
Finally, there is a search function which is incredibly fast at finding an email which you are looking for.
This really is an excellent email app. It lets you handle your inbox email in such a way that your inbox remains clean, but you are not simply discarding or deleting emails. You are giving each email a momentary consideration as to how you want to deal with it in the future, discard it or delay dealing with it. This is a marvelous way of dealing with your email. You feel good because you are restoring inbox to its lovely clean state again and your conscience remains clear for you have dealt with every email in a decisive and guilt free way!